Jen Civelli
Jen Civelli has spent years taking care of our oceanic resources. Jen had been a professor of chemistry at Cape Fear Community College, located in Wilmington, North Carolina, and also taught several classes in the University of North Carolina Wilmington's Chemistry department.

Jen's passion for the ocean started while working on her undergraduate Bachelor's degree in Biochemistry at California Polytechnic State University in San Luis Obispo, California. Jen followed her passion for Marine Science to graduate school in San Diego, where she received her Master's degree in Chemistry from San Diego State University.
Jen loves to travel and has visited Puerto Rico, Antigua, St Lucia, St Thomas, St John, St Martin, Barbados, Los Cabos, Mexico and the Bahamas. She also loves to visit Hawaii, where she always has a blast surfing the long, fun waves of the South Shore. She taught at the college level for fourteen years. Her extra time is spent enjoying the ocean and the beauty it brings.She loves living in North Carolina because of the warm, crystal clear water that makes surfing that much more fun. Jen's favorite thing to do is pack up the Toyota, 4-wheel out on Carolina Beach and find her own private surf break!
By getting married to the founder of WB Surf Camp in May of 2004, she is assured a lifelong adventure in environmental conservation, surf travel and marine biology exploration.
Jean Beasley
A chance encounter with a nesting sea turtle prompted Jean Beasley's daughter, Karen, to found a project to protect the sea turtles, their nests and the emerging hatchlings on Topsail Island. After Karen's untimely death, Jean took up the reins of her work.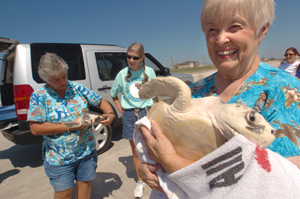 Although neither had envisioned a sea turtle hospital, when a seriously injured turtle washed up on Topsail Island something had to be done. Before they knew it, the small group of volunteers was in the sea turtle rehab business and the Sea Turtle Hospital was born. Approximately 20 fully recovered sea turtles from the size of a dinner plate to the size of a dinner table are released back to the ocean each year thanks to their efforts.
The Karen Beasley Sea Turtle Rescue and Rehabilitation Center could not function successfully without its dedicated volunteers and donations from its supporters. At the hospital, the volunteers have made significant contributions to the field of sea turtle medicine but perhaps more importantly, they have listened to the message the sea turtles brought to them. The degradation of their habitat and the reasons behind their illnesses and injuries were hard to ignore. Jean began to speak of conservation and its importance, not only for sea turtles, but for the very survival of the planet itself. Now, recognized around the world for her conservation work, Jean continues to challenge all with her message that every person can make a difference and that together we can change the world!
Rick Civelli
As a kid, Rick Civelli spent his summers clamming, fishing, and of course surfing. Without realizing it, his appreciation for environmental conservation was ingrained before his teens. He graduated from UNC-Wilmington with his Bachelors in Environmental Studies. During college and after graduation he worked as a marine science educator at the North Carolina Aquarium at Fort Fisher. For three years he developed and facilitated programs while teaching thousands of adults and children about the wonders of our coastal ecosystems. During both his undergraduate and graduate studies, he was an assistant director for UNCW's Marine Science Summer Camp Program.
To broaden his professional development he later worked as a permit and enforcement officer for the North Carolina Division of Coastal Management. Taking a different approach to environmental conservation, he reviewed and permitted coastal development projects, and issued fines for remediation of impacted coastal resources. Rick sat on the Board of Directors for the Society of Masonboro Island and is a member the Surfrider Foundation, and the NC Aquarium Society. He also spent 3 years pursuing a Masters Degree in Coastal Geology from UNC-Wilmington's Center for Marine Science where he studied coastal processes.
In the winter of 1995, Rick developed a marine science educational learn to surf program for our local aquarium which he called "Surf's Up". Since then he has taught thousands of students of all ages the sport of surfing while enlightening them of the wonders of our coastal environment.
His travels have brought him to surf and study coastal processes and habitats all over the world. He has explored coral reefs in Hawaii, Puerto Rico, Anegada, Antigua, Bermuda, Jost Van Dyke, St Lucia, St Thomas, St John, and St Martin. He has swam with sea turtles in, Tortola, Baja Mexico, Barbados, and Costa Rica, sharks in Looe Key national marine sanctuary, sting rays in the Bahamas, and dolphins off Key West Florida. He has surfed up and down the east coast from Nantucket to Block Island to Cape Hatteras to Sebastian inlet. He has also caught many epic swells on the West coast from Morro Bay to Tourmaline San Diego. On several occasions Rick has also ventured to the North Shore of Oahu, where he visited famous surf breaks including Waimea Bay, Pipeline, Sunset and Sandy Beach. He was also lucky enough to see the huge Dec 2002 swell hit with up to 60′ faces!
With his love for surfing and utmost respect for the ocean and it's resources, Rick has developed this unparalleled fun experience known as "Sea Turtle Camp."